Emily's Army Video Interview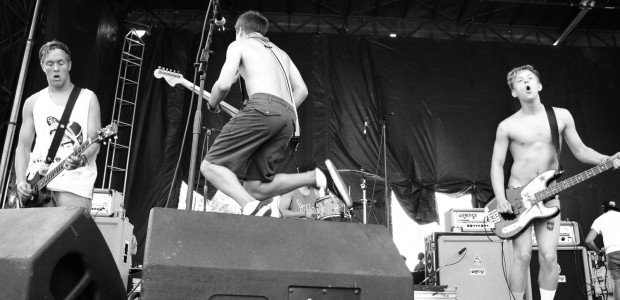 New to the Vans Warped Tour circuit, Cole and Max Becker, Travis Neumann, and Joey Armstrong--better known as Emily's Army--took the time to talk to us between their plugged and acoustic sets.
This week, Emily's Army performed a solid set to their eager fans in Montreal. But this band is not only about building their fanbase and having fun. The band--including their name--seeks to raise awareness about cystic fibrosis. Find out more by checking out our interview highlights, and full video interview.
As one of the youngest and newest bands on tour, what are some of the lessons you've learned?
Max - We learned that people are not necessarily going to dance at Warped Tour, and actually, some people walk away and you have to learn to not be offended. They're just trying to check out other bands, too. So that's something we've kind of gotten over. When we were younger, we were like, "My God, they're not moving around; we suck," but that's not what it's about. If they're not moving, it doesn't mean they don't like it.
Your band, Emily's Army, brings awareness to Cystic Fibrosis, which is a great thing. For people who don't know, why is this so important to you, and how can they get involved?
Max - It's important to us because the name of our band, Emily's Army, is named after Cole's and my cousin, Emily, who has cystic fibrosis. During our show, we sell dogtags and we play a couple of benefit shows every year to help raise awareness. And other people can raise awareness by going to emilysarmy.com; cause we're emilysarmyband.com. If you get confused, it's actually a good thing cause it takes you to the foundation's website and you can donate from there. And really, anything helps because they're coming pretty close to a lot of breakthroughs.