Civil Twilight Concert Review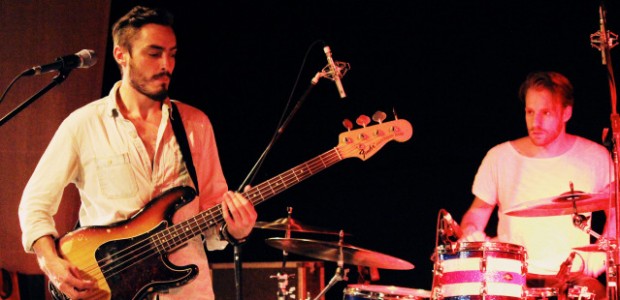 Tonight, in Montreal, fans gathered at the cozy Club Lambi to welcome Civil Twilight to the city for the first time. The last time we'd seen them, they had been entertaining Evanescence fans at their secret show in New York City in 2009. Tonight, however, Civil Twilight began the Canadian leg of their headlining tour.
Touring in promotion of Holy Weather--their second album--the band primarily shared tracks from this album, including River, Doorway, and title track, Holy Weather. One of my personal favorites was Sweet Resistance.
While many of the songs hailed from Holy Weather, the band also performed older tracks, including Trouble and Soldier, to name a few, for the fans who have been with them since the beginning.
Interspersed between songs, frontman Steven McKellar chatted with the crowd, keeping everyone engaged. Perhaps more interesting, however, was watching band members switch instruments comfortably. And no, I don't mean a guitar change. I watched the keyboardist grab a bass, and the frontman/bassist take to the keyboards. There's something special about such well rounded musicians when that level of ease is evident while engaging in instrument swaps between songs.
When Fire Escape--their most recent single--began, the energy level of both the audience and the band leapt to another level. It felt like the party had just kicked into gear; the band members rocked out onstage during the jam session that ensued.
Next, their cover of Massive Attack's Teardrop seemed to catch the crowd by surprise, in the best possible way. McKellar's striking upper register gave the track a new vibe while paying homage to the original.
Quiet In My Town was a stripped down, chilling, emotional moment. As McKellar sang, "Someday say something cause I can't take this silence anymore. Anymore," it felt like we were eavesdropping on McKellar's diary being ready out loud. It was, by far, the most intimate part of the show.
As expected, the show ended with Letters From The Sky, Civil Twilight's best known single to date, and undoubtedly the audience's favorite song of the evening.
Civil Twilight delivered a solid set. The quality of their performance was just as I remembered it from the first time I'd seen them in 2009. It's obvious that they put a great deal of work into their albums, and this becomes evident in the live setting. While they're still making their presence known in Canada, they made a great start tonight.
As Civil Twilight continues to tour, check out their upcoming shows:
June 20, 2012 – Toronto, Ontario – The Garrison
June 22, 2012 – Greensburg, PA – Summer Sounds/Concerts in the Park
June 24, 2012 – St. Paul, MN – Harriet Island w/Dave Matthews, Tool, Flaming Lip
June 30, 2012 – Chicago, IL – St. Michael's w/Shiny Toy Guns
July 1, 2012 – Milwaukee, WI – Summerfest
July 31, 2012 – Lake Placid, NY – Mid Park, Songs at Mirror Lake Music Series
August 2, 2012 – Dewey Beach, DE – Bottle & Cork
August 25, 2012 – Las Vegas, NV – Silverton Hotel & Casino
September 2, 2012 – Seattle, WA – Bumbershoot Festival
September 22, 2012 – Atlanta, GA – Piedmont Park, Music Midtown Festival
October 23, 2012 – Austin, TX – Austin City Limits Music Festival