Billie Joe Armstrong Does American Idiot Musical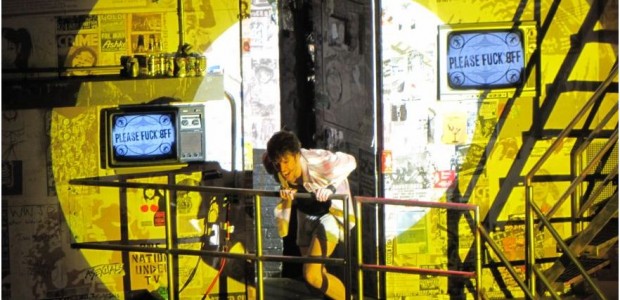 It is fitting that my first show on Broadway involved Green Day. When the band announced on their official Twitter account that Billie Joe Armstrong would fill in for Tony Vincent —as St. Jimmy—in American Idiot the musical, I packed a bag and headed down to New York City to see for myself.
When the curtain lifted, the first thing to catch my eye was the stage design. Everything had its purpose. From the newspapers adorning the walls to the televisions interspersed between said papers, to the onscreen images that screamed at its viewers to pay attention to what we're unknowingly being fed on a regular basis, one could not help but have the impression that we were being set up for something big.
American Idiot Storyline
The American Idiot storyline revolves around a variety of characters, but focuses on the lives of Johnny, Tunny, and Will, three friends who want to get far away from home, and fast. This desire, coupled with their individual circumstances, takes each of them down their own personal paths of destruction. War, sex, drugs, rage, love, hate, and responsibility come at us from different angles, and it is difficult not to relate these themes to our own lives. While a short synopsis does not do justice to the multilayered nature of this piece and the individuals who contribute to it, I will say that their circumstances are applicable to so many of us, whether your youth was lived out decades ago, or right at this moment.
Billie Joe came onto the stage as the deceptive, destructive, dark St. Jimmy, hell bent on keeping Johnny enslaved in the things he knows will be his ultimate demise. Billie Joe seemed to really enjoy himself onstage; his movements and his facial expressions were very expressive and the crowd cheered him on. As St. Jimmy slithered on and off stage, pulling Johnny deeper into despair, there is a sense of relief when St. Jimmy meets his fate during the song, Homecoming.
Highlights From The Show
Some of my favorite moments were nestled in pockets of silence, such as Johnny's monologue about his sense of self worth, or lack thereof, stemming from his stepdad's influence; another powerful scene involved Johnny slowly unfolding a piece of paper to reveal his heart to a sleeping Whatsername.
While I have heard the American Idiot and 21st Century Breakdown albums more times that I can remember, I found myself listening to them differently this time. The songs were rich with new arrangements and multipart harmonies. In addition to tracks from American Idiot and 21st Century Breakdown, songs Favorite Son—from Rock Against Bush: Volume II—Too Much Too Soon, and When It's Time were added to the soundtrack of Johnny's, Tunny's, and Will's lives.
Musical highlights were many. The fusion of She's A Rebel with Last Of The American Girls both demonstrated the complexities of the girl called Whatsername, and provided a musical mélange that was interesting for the ears and mind, particularly for those familiar with the songs as separate entities. The use of female voices, as in Extraordinary Girl, Dearly Beloved, and 21 Guns, forced the audience to experience Green Day's lyrics in a different way.
Before the Lobotomy had the emotional charge of Will I Lose My Dignity from Rent; both force the audience to run the gamut of emotions for the character in question—Tunny, in this case—and their difficult situation. Homecoming, on the other hand, brought the interconnected stories to a final boil.
Conclusion
I went to the show not wanting to know the exact storyline before arriving, and not knowing what to expect. What I found, from the first notes uttered, was that this production was a groundbreaking piece of artistry; loud and blaring when it needed to be, and evoking emotion amidst the silence. I found myself getting emotionally connected to the characters as they brimmed with intensity from start to finish.
Previously, Green Day and Broadway may not have been words that would have appeared in the same sentence. Now, they will be uttered together to describe the groundbreaker that pushed us all to redefine what a musical could—and should—be. Even now, listening to the Broadway version of Green Day's music, the storyline comes to mind; it will stick with you long after you've left the St. James Theater.
Congratulations Green Day, you have just immortalized American Idiot and 21st Century Breakdown.
Set (Song) List for American Idiot Musical
American Idiot
Jesus of Suburbia
Holiday
Boulevard of Broken Dreams
Favorite Son
Are We the Waiting
St. Jimmy
Give Me Novacaine
Last of the American Girls/She's a Rebel
Last Night on Earth
Too Much Too Soon
Before the Lobotomy
Extraordinary Girl
Before the Lobotomy (reprise)
When It's Time
Know Your Enemy
21 Guns
Letterbomb
Wake Me Up When September Ends
Homecoming
Whatsername
"Encore"
Good Riddance (Time of Your Life)
The UpVenue crew were fortunate enough to see and review Billie Joe's performance as St. Jimmy in the well-produced American Idiot Musical in 2010. It was announced today, March 10, 2011, that the American Idiot musical will close its doors on Broadway on April 24:
BILLIE JOE ARMSTRONG WILL RETURN TO CELEBRATE AMERICAN IDIOT'S ONE YEAR ANNIVERSARY AND FINAL THREE WEEKS ON BROADWAY – THE FINAL PERFORMANCE WILL TAKE PLACE SUNDAY APRIL 24TH!
It's the final curtain call for American Idiot. See it while you can.