Billie Joe to Return to Broadway as St. Jimmy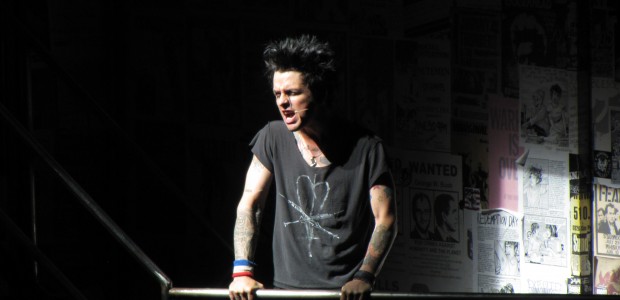 In September, Billie Joe Armstrong, frontman for Green Day, filled in for Tony Vincent as St. Jimmy in the American Idiot musical for a few days. If you missed the opportunity and were only able to live vicariously through rave reviews and pictures, you're in luck. You have been granted 50 more chances to be a part of the experience.
While musicals seem to be all the rage right now, they aren't all able to wow their audiences - cue Spider-Man: Turn Off the Dark. American Idiot, on the other hand, has already generated solid buzz, garnering two Tony Awards (for Best Scenic Design and Best Lighting Design), and a nomination for Best Musical. Tie this in with the fact that one of the members of the band, who created the music (and thus the storyline) will take part, and you have a reason to get yourself to the St. James Theater.
Haven't seen it yet? Tickets are already on sale. Seen it already? There's nothing wrong with seeing it again. Billie Joe will perform on the following dates: January 1st to 9th, January 18th to 30th, and February 10th to 27th.
The UpVenue crew were fortunate enough to see and review Billie Joe's performance as St. Jimmy in the well-produced American Idiot Musical in 2010. It was announced today, March 10, 2011, that the American Idiot musical will close its doors on Broadway on April 24:
BILLIE JOE ARMSTRONG WILL RETURN TO CELEBRATE AMERICAN IDIOT'S ONE YEAR ANNIVERSARY AND FINAL THREE WEEKS ON BROADWAY – THE FINAL PERFORMANCE WILL TAKE PLACE SUNDAY APRIL 24TH!
It's the final curtain call for American Idiot. See it while you can.